Stone Environmental Named One of the 2019 Best Places to Work in Vermont
Stone Environmental was named one of the 2019 Best Places to Work in Vermont by the Vermont Business Magazine, the Vermont Chamber of Commerce, the Vermont Department of Economic Development, the Society for Human Resource Management (SHRM) –– Vermont State Council, and Best Companies Group.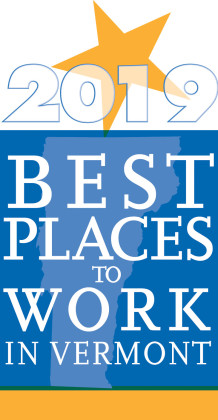 The annual award program was created in 2006 to identify, recognize, and honor the top 50 best places to work in Vermont, benefiting the state's economy, its workforce, and businesses. The distinction is based on a two-part survey process that evaluates the company's workplace policies, practices, and demographics, as well as a heavily-weighted employee survey designed to measure employee experience and workplace satisfaction.
"We are thrilled and honored to be on the list of Vermont's Best Places to Work," said Michael Winchell, vice president of Stone. "This recognition reflects our talented and dedicated team of professionals and the organization we have built together over the last 27 years. Becoming a 100% employee-owned company has led to a heightened sense of purpose across the organization, providing significant benefits to our workplace, community, and overall success of our business. We are optimistic about the future and will continue to provide a great place for Vermonters to work, support our community, and serve our clients through outstanding science."
The list includes 23 small businesses (15-99 employees), 13 medium businesses (100-249 employees) and 14 large businesses (250+ employees). Final rankings for each category (small, medium, and large) were announced at a special awards ceremony on March 26, 2019 at the DoubleTree Hotel in South Burlington.
To learn more about Stone and why it's such a great place to work, click here.